Waiting on Wednesday is a weekly meme hosted by Jill at Breaking the Spine where bloggers spotlight an upcoming title release we are eagerly anticipating.
Ten Thousand Skies Above You by Claudia Gray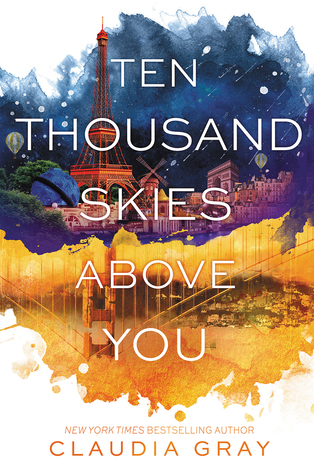 Ever since she used the Firebird, her parents' invention, to cross into alternate dimensions, Marguerite has caught the attention of enemies who will do anything to force her into helping them dominate the multiverse—even hurting the people she loves. She resists until her boyfriend, Paul, is attacked and his consciousness scattered across multiple dimensions.
Marguerite has no choice but to search for each splinter of Paul's soul. The hunt sends her racing through a war-torn San Francisco, the criminal underworld of New York City, and a glittering Paris where another Marguerite hides a shocking secret. Each world brings Marguerite one step closer to rescuing Paul. But with each trial she faces, she begins to question the destiny she thought they shared.
I finally thought I had worked what books I was going to read next in what order. And then I remembered this book was being released in a few weeks. There goes that plan.
I have been eagerly awaiting this book's release ever since I read the first book in the series, A Thousand Pieces of You. (You can read my review for the first book here!) Embarrassingly enough, I actually forgot about it until recently. I mean, I have been super anxious for the sequel to come out, but I forgot to pay attention to when it was coming out. Imagine my excitement when I found out it comes out in just a few weeks! November 3, ya'll!
Something that I really loved about the first book were all the different alternate worlds the characters traveled to. Gray obviously has a lot of fun creating the alternate realities they visit, so I'm really looking forward to see what other realms she has come up with. There were also a few areas that I felt the first book fell short on that I am hoping this book will make up for. We shall see!
Who else has read A Thousand Pieces of You, and are you looking forward to this release too?
XOXO