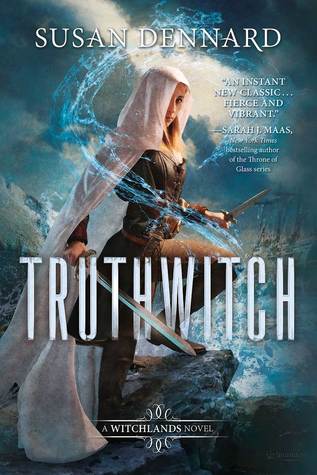 Goodreads Synopsis:
In the Witchlands, there are almost as many types of magic as there are ways to get in trouble—as two desperate young women know all too well.
Safiya is a Truthwitch, able to discern truth from lie. It's a powerful magic that many would kill to have on their side, especially amongst the nobility to which Safi was born. So Safi must keep her gift hidden, lest she be used as a pawn in the struggle between empires.
Iseult, a Threadwitch, can see the invisible ties that bind and entangle the lives around her—but she cannot see the bonds that touch her own heart. Her unlikely friendship with Safi has taken her from life as an outcast into one of reckless adventure, where she is a cool, wary balance to Safi's hotheaded impulsiveness.
Safi and Iseult just want to be free to live their own lives, but war is coming to the Witchlands. With the help of the cunning Prince Merik (a Windwitch and ship's captain) and the hindrance of a Bloodwitch bent on revenge, the friends must fight emperors, princes, and mercenaries alike, who will stop at nothing to get their hands on a Truthwitch.
Tl;Dr: I have absolutely nothing bad to say about this book. It almost hurts how flawless it is. Deep, intense friendships. A budding romance. Clever magic. Phenomenal world building. Everything a fantasy lover could ever ask for and more.
You all know I was super looking forward to Truthwitch because it was featured in my Most Anticipated Books of 2016 post last week. Now I don't want to brag, but it lived up to every single expectation and then some.
I am always hesitant to feed the fire of hyped up books. I know it is something that turns some people off from reading them, because so often hyped up books don't live up to the expectations. But I assure you, this one does. Every amazing word you've heard is true.
All of the characters, protagonists and antagonists alike, are thoroughly developed and complex. Safi is the kind of flawed, hot-headed-yet-charming protagonist you can't help but love. Iseult is her near perfect opposite- calm, collected, but no less endearing. Merik…Merik is absolutely precious. I don't think he would take kindly to my describing him that way, but he so is. Strikingly handsome, headstrong, determined, and constantly walking the line between sweet and snarky: 110% my kind of prince.
I also love that this book gives a voice to the Bloodwitch hunting them. Turns out there is more to Aeduan than that scowl he can't seem to shake off his face, and I'm really looking forward to seeing what direction he goes in in the next book.
The pace is phenomenal, both in plot and character development. What seems like nothing more than a minor subplot- a way to start the book off with a bang- seamlessly blends into the main story, so you're in the middle before you realize it has even begun. The romance is also refreshingly realistically paced- no love at first sight here, frustrated attraction on the other hand…well. I spent roughly half the book shouting "oh my god just get it on already!" Seriously.
The overarching plot for the trilogy is well established in Truthwitch, but it never once takes center stage, except perhaps for Aeduan near the end. Personally I think this ties into how well paced the story is; we are gradually given hints, and later clear statements, about the bigger story taking place in the background, but it does not overpower the immediate conflict coursing through their lives in the few days this book covers. It leaves you desperately needing more, without feeling like something was missing.
When I finished Truthwitch I was absolutely overcome with a burning need to write. I cannot remember the last time a book inspired me as much as this one did. I cannot recommend it enough. If you love yourself you will order it today. I have no doubt that this is the beginning of a series that will be well remembered and regularly re-read.
XOXO